"Dr. Jones, how many grafts do I need?"
Hair transplants are becoming an increasingly popular surgical procedure which offers a permanent solution to men and women suffering from hair loss while maintaining a natural look. However, because FUE hair restoration involves surgery, people often have several questions when considering it as a viable option.
One of the most common questions patients ask Dr. Jones during their consultation is: "How many hair grafts are needed to achieve natural, full hair?" When answering each of his patients, he first takes some things into consideration to ensure they get the most out of their investment. They are as follows:
Reflect the individual's degree of hair loss and donor supply, as well as their hair characteristics
Address the number of possible procedures and time commitment
Consider short and long term cost for the patient
After taking the aforementioned into account, Dr. Jones will determine how many hair grafts will be needed in the affected area. Generally, the higher level of hair loss there is the more grafts you will need, these could range from 1000 to 5000 or more.
Dark, coarser hair may require fewer hair grafts to the cover the same area as compared to lighter colored, fine hair. An individual consultation is the best way for Dr. Jones to establish a realistic number of hair grafts needed to cover baldness or thinning hair.
Below are some of the incredible before and after images of patients Dr. Jones has worked with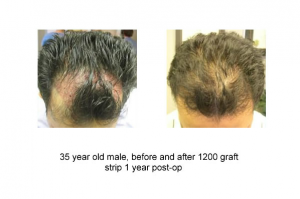 1000-2000 Hair Grafts
Hair grafts under 2000 are required when there is not a lot of substantial hair loss. These low numbers of grafts are typically suitable for receding hair lines, thinning hair or small patches of hair loss on the crown of the head.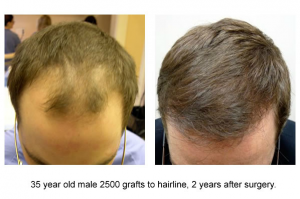 2000-3500 Hair Grafts
Hair grafts between 2000 and 3000 are appropriate when the patient has significant hair loss on the sides, frontal or middle scalp and crown of the head. This number of hair grafts is a normal amount needed to restore hair loss and achieve a natural look.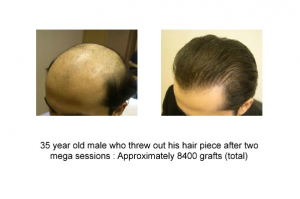 3500-5000+Hair Grafts
Hair grafts above 3500 are suitable when the patient has large amounts of hair loss or complete baldness in certain areas on the head. When Dr. Jones treats these patients, they often are concerned about not being able to have their hair restored at this point. Rest assured, Dr. Jones remains confident in his ability to promote new hair growth even in the most extreme cases.
Dr. Jones goal is to help the patient understand how close he can come to meeting their personal needs and expectations and with proper planning, he can offer long lasting satisfaction.
If you're unsure how many hair grafts you need, contact Dr. Jones today for a consultation.
Related posts: