What is PRP?
Platelet Rich Plasma, or PRP, is a high concentration of platelets contained in a small volume of plasma, from your own blood. Platelets are the components of your blood that release various growth factors that initiate your body's healing cascade.
Who uses PRP?
Almost anyone with hair thinning or hair loss can be a good candidate for PRP. For some, PRP is used in conjunction with other hair restoration modalities, such as medication or surgery, as a means of being more "aggressive" with treatment. PRP is especially useful for those who are not candidates for surgery or who want to try non-surgical approaches before considering surgery.
Lastly, a "PRP soak" at the time of hair transplant surgery may increase the viability of your grafts, speed healing, reduce redness, and decrease the possibility of "shock loss".
What are the benefits of PRP?
The main benefit of PRP is thought to be the production of new blood vessels, which helps support the activity of hair follicles, promoting growth of stronger, healthier hairs. Studies have shown that PRP can increase the density of your hair, as well as making individual hairs thicker. In addition, PRP can increase the anagen, or growing phase, of your hair. Combined, these benefits result in the appearance of thicker, denser hair with less shedding.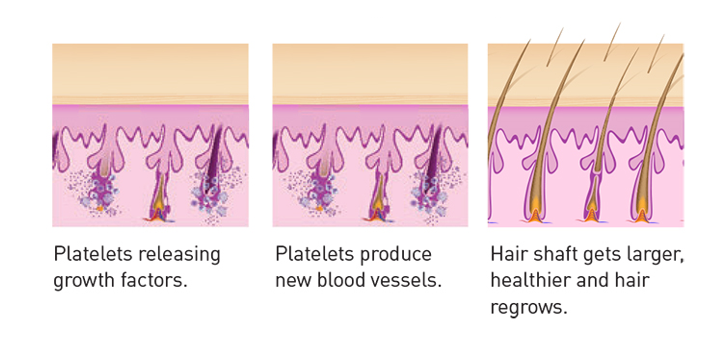 What is the PRP process like?
We use the Eclipse PRP system, collecting 22ml of blood. This system is one of the most effective at eliminating unwanted red and white blood cells from PRP.
Once drawn, your blood is placed in a high-speed centrifuge and the platelets are isolated. The plasma is then concentrated, collected, and injected into the scalp with tiny needles. The entire process takes about 30 minutes.
How many PRP treatments are required?
Treatment is divided into the induction and maintenance phases. The induction phase consists of 4 treatments, each one month apart. A 5th maintenance treatment is then done 6 months after that. One year from your first treatment, an evaluation is done to assess the effectiveness of the treatment. If effective, only maintenance treatments every 6 months are required on an ongoing basis. If you discontinue treatments, you may lose the benefit of PRP over time.
Is PRP painful?
There may be some brief discomfort at the injection sites. There may also be some redness and inflammation at the injection sites, but this resolves very quickly.
What are the risks of PRP?
There are no known risks to PRP. The platelets and plasma being injected come from your own body, therefore there is no risk of allergic reaction.
Can I have PRP at the time of my hair transplant surgery?
Yes! This is called a "PRP soak". Rather than injecting PRP into your scalp, your excised follicular unit grafts are soaked in PRP. The PRP is returned to your scalp when your grafts are planted. This may increase the viability of your transplanted grafts, speed healing, reduce redness, and reduce the possibility of "shock loss".
Can anyone have PRP?
Almost anyone with hair loss is a good candidate for PRP. Patients who cannot have PRP include:
• Patients on blood thinning medications (e.g., warfarin, clopidogrel), including chronic use of anti-inflammatories (e.g., ibuprofen).
• Patients taking vitamin E, fish oil, or omega 3 oil supplements within 1 week of treatment.
• Patients with low platelet count.
• Pregnant women.
• Women who are breastfeeding.