We try to show as many cases as possible on our website and give our prospective patients a real idea of what to expect. This case is from just a few days ago and it is a great example of the FUE procedure and the overall healing process in the first few days. A transplant like this takes about 9 months to really grow in and be complete. Keep checking our blog and get on the VIP list to follow along with these cases ad see the kind of work we do day in and day out here at DrRobertJones.com
This case is intended to fill in the patient's forelock which can make the patient look much younger. Restoring the hair in the hairline and front of the scalp is a great use of 1500 FUE grafts for the younger patient.
You can also see the length we shaved the patients head to do this FUE. Though we don't always have to shave the patient it usually isn't too big of a deal for a patient that wears his hair short.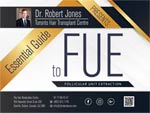 Download Free Ebook Essential Guide To FUE
Related posts: